WINDSHIELD PROTECTION
Cracks and chips in windshields can be expensive and hazardous. Protect your windshield from the harsh Colorado Springs & Pueblo road conditions and elements with ClearPlex windshield protection from Drive-In Autosound. Windshield protection significantly reduces the occurrence of rock chips, pitting, and bull's-eyes; leaving the glass in pristine condition.
At Drive-In Autosound, we use the world's first and best-performing windshield protection film, ClearPlex. ClearPlex is the original protection film for cars and the only auto windshield protection film of its kind that has been awarded 3 U.S. patents.
In addition, ClearPlex is guaranteed not to peel, bubble, crack, or yellow for the warrantied life of the film. ClearPlex windshield protection film is ideal for luxury and classic cars, vehicles equipped with ADAS windshield technology, fleets, recreational vehicles and construction equipment. It's a whole new vision in windshield protection.
Windshield protection is optically clear. Shown in red for visuals only.
Who Should Use Windshield Protection?
Windshield protection is ideal for luxury and classic vehicles and for vehicles equipped with ADAS (Advanced Driver Assistance Systems) windshield technology. These vehicles have windshields that can carry high replacement costs. The average replacement cost of a ADAS equipped windshield is very expensive. Windshield Protection film is also great for fleet vehicles such as buses, delivery trucks/vans, and rental cars because it helps keep these revenue generating vehicles on the road. Windshield Protection is also an excellent product for recreational and off-road vehicles as well as for anyone interested in deterring smash-and-grab thefts.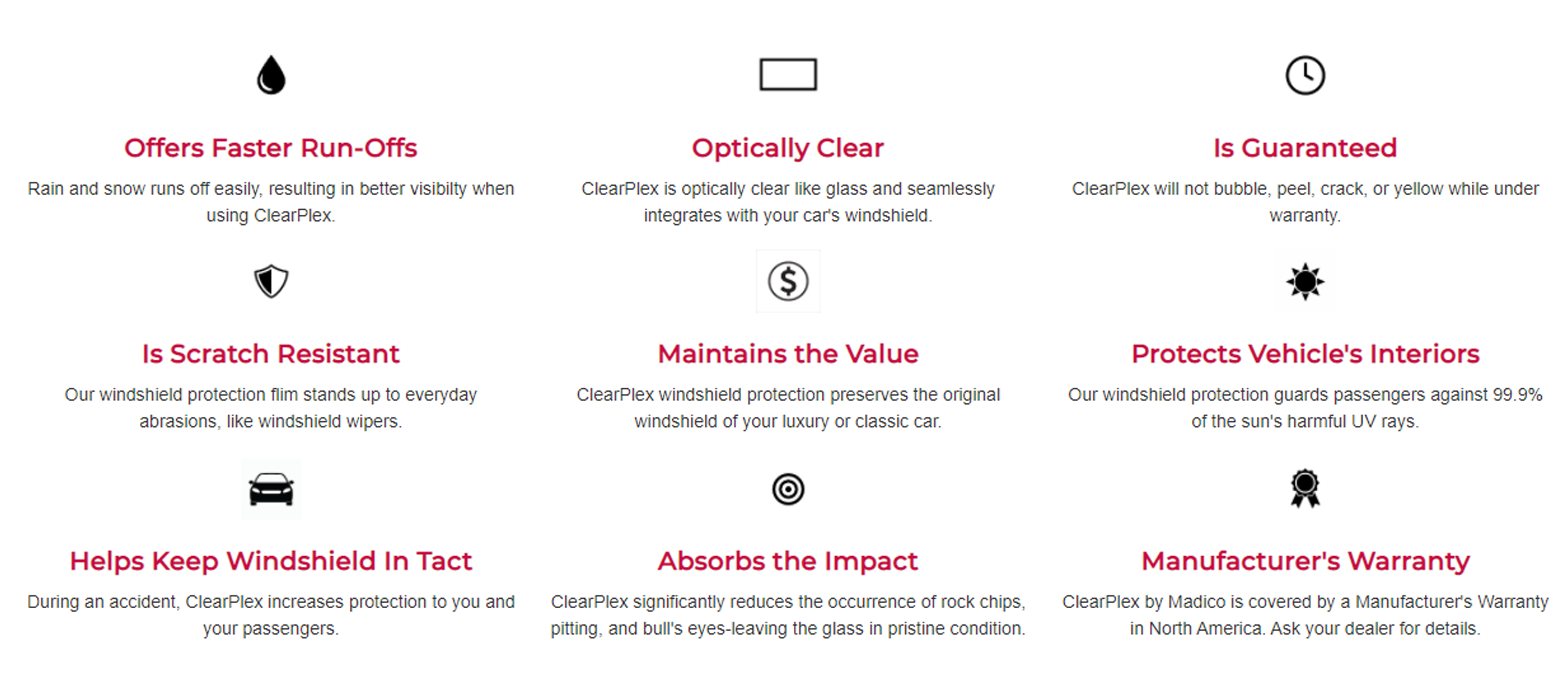 Benefits of Windshield Protection
Optically clear, invisible windshield protection that will not impair the driver's ability to see the road.
Absorbs impact of standard road hazards and protects glass from road debris that can damage unprotected glass.
Reduces occurrence of rock chips, pitting, and bull's eyes.
Ideal for maintaining luxury cars and fleet vehicles and reducing down-time
Significantly less expensive than replacing a windshield, especially those with ADAS (Crash Avoidance Systems) technology.
Keeps windshield intact during an accident
Protects against 99% of the sun's harmful UV rays
Protects against accidental breakage and smash-and-grab
Faster run-off of rain and snow
Warrantied not to peel, bubble, crack, or yellow
Pricing
Starting range for Windshield Protection is $495 - $1495 and varies by vehicle. Visit a store location for an accurate quote on full vehicle application.
Windshield Protection Performance